Gregg Baron, M.S., D.C.
Practicing Chiropractor, Wellness Coach, Author, and Speaker
Who is Dr. Baron?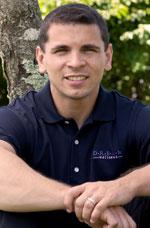 USPGA Chiropractor for 2009 US Open, Bethpage, NY
Dr. Gregg Baron is the Chief Operating Officer and practicing Chiropractor for the Smithtown, NY office of DREAM Wellness—the center he co-founded in 2003 with Dr. Brian Stenzler.
Dr. Baron holds an M.S. in Sports Health Science and a Doctorate Degree in Chiropractic from Life University in Marietta, GA. Prior to earning his chiropractic degree, Dr. Baron was a New York State Physical Fitness Champion and a Certified Personal Trainer through the American Council on Exercise.
Both in the U.S. and abroad, Dr. Baron has donated his services and expertise to help others in need. He has performed scoliosis screenings for local community outreaches and served on a missions team to Bocas del Toro, Panama, where he provided chiropractic services to the Ambassador and other high-ranking government officials.
Following the events of Sept. 11, 2001, Dr. Baron received a Distinguished Service Award from the American Red Cross for providing chiropractic services during the relief effort at Ground Zero to members of the U.S. Armed Forces, New York Police Department, Fire Department of New York and other relief/rescue workers.
An active member of the New York Chiropractic Council, the World Chiropractic Alliance and the Chiropractic Leadership Alliance, Dr. Baron is also a devoted martial artist, having earned the rank of Black Belt in the arts of Shito-Ryu Karate and Nihon Goshin Aikido. He lives in South Setauket, NY, with his wife, Danielle, and two sons, Jaden and Jake.
Need a Speaker for Your Event?
Keynotes… Half or full day workshops… Retreats
Dr. Baron's Signature Speech…
Live The D.R.E.A.M. Everyday! The 5 Major Pieces to the Wellness Puzzle
In this transformational talk, Dr. Baron provides the key combination to unlocking your personal wellness vault.  That key comes in the form of an acronym, D.R.E.A.M., which stands for Diet, Relaxation, Exercise, Adjustment and Mental Wellness.  The purpose… to keep wellness-oriented attendees from becoming consumers of the sick-care industry.
Dr. Baron's Other Popular Talks Include…
Wealth  & Wellness – A 5-Step, Inside-Out Approach Toward Prosperity
Financial freedom AND good health?  Who says you can't have it all!
In this cutting-edge conversation, Dr. Baron reveals his 5-step, inside-out approach toward prosperity. This one's a potential game changer for attendees!
The 'Skinny' on Fats – How Eating the Right Fats Will Make You Permanently Thin
Not all fats are created equal!  And… when it comes to weight loss, it is this inequality that ultimately sabotages your success.  In this informative,
eye-opening presentation, Dr. Baron will show attendees how to finally step off the dieting train once and for all.
Download Dr. Baron's One-Sheet
To download Dr. Baron's Speaking One-Sheet, simply click the one-sheet image.